J'aime
< retour à la liste de posts
[REVIEW] Japanese/English/French versions of Blame!
Manga
Le 20 mai 2017
0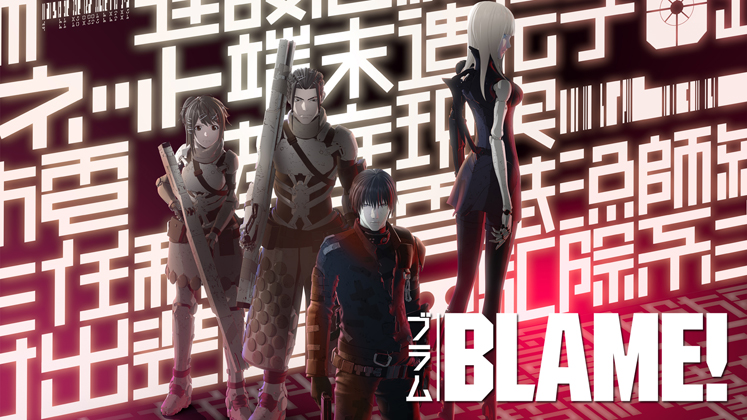 J'ai fait ma review dans un anglais basique mais je la retraduirai en Français plus tard.
I've waited this moment for 15 years now and I can finally say that my life is complete.
I really love the movie for what it is. The characters are well written and really close to the manga. If you haven't read the manga yet, you don't miss anything because the movie takes a different path from the manga. It doesn't not tell us the same thing at all in its envisionment. You can go see it right away.
But it still covers Log13 to Log20 in its own way. (much more kawaii)
The story is told from the point of view of the villagers in order to depict Killy as a legendary being. They saw him once in their lifetime and he disappeared forever without us knowing if he will succeed in his mission. Following Killy would have been a bit absurd since most of his life is full of walk and nothingness. But this is not Killy's story so the point is not him being a hero, succeeding or failing his/its mission but everything is about the villagers. Killy is nothing more than a secondary characters. He stay mysterious, in the background because this is what he always do. He is musical theme is also interesting because they introduce him as a lonely cowboy however, I think they overplayed it a bit too much.
The only bad point of this movie would be, in my opinion, the dynamic in the relation between Killy/Cibo/Sanakan. Cibo is perfectly able to talk for Killy whereas they just met. If she is able to do that in the manga, it's because they both spend long times together, years, maybe decades, we will never know…. Sanakan is here as the main antagonist while her role in the manga is more contasted. She evolves going to the point she protects Cibo from the safeguards at the end. Anyway the relation between the 3 characters is full of shortcuts but I can understand since it's not the point of the movie. Once again, it's not about them, it's about the villagers. It feels more like they are fan service in their own movie.
I feel a bit sad that Cibo and Killy go separate ways at the end of the movie, they are suppose to be companions.
For the technical aspects of the movie, everything is perfect.
Concerning the voice acting though, I can say that Killy's voice acting is off in english and french, because it feels they miss the point that Killy has been lonely for decades even centuries and not confortable with speaking. It's not natural for him to speak so casually like he does in french (english sounds a bit better though). He suppose to have more of a broken voice really deep and Japanese voice actor Sakurai Takahiro does that perfectly.
Anyway, the movie is great.
C'est le bruit des bulles qui éclatent. Ici on parlera manga et animation japonaise.
Pour retrouver facilement un article ou pour découvrir les sujets traités sur le blog, n'hésitez pas à consulter l'index qui est mis très régulièrement à jour :
Bonne Navigation !
N'hésitez pas à me contacter à l'adresse suivante: de.w@hotmail.fr
---
FREE! : LE DOSSIER
* Anime – アニメ : De High☆Speed! – ハイ☆スピード! à Free! Iwatobi Swim Club – Introduction
* Light Novel – ライトノベル: High☆Speed! – ハイ☆スピード! – Interview
* Light Novel – ライトノベル: High☆Speed! – ハイ☆スピード! – Review
* Anime – アニメ : Free! Iwatobi Swim Club – Review
* Anime – アニメ : Free! Eternal Summer Episode Bonus - Trailer
* Pages Couleurs et personnages
* Chapitre 2 : Eau => EN COURS 5%
* Chapitre 3 : Free
* Chapitre 4 : Relai
* Chapitre 5 : Mouvement
* Chapitre 6 : Equipe
* Chapitre 7 : Course
* Chapitre 8 : SAKURA
* Postface
Drama CD - ドラマCD : Long slow distance of that summer - あの夏のロングスローディスタンス
* Episode 5 => Traduction en cours
* Episode 6
* Episode 7 (en mars)
---
NORAGAMI : LE DOSSIER
* Noragami - ノラガミLe MasterPost
* Ces manga - 漫画 qu'on aimerait voir en France : NORAGAMI - ノラガミ
* Manga - 漫画 : Noragami - ノラガミ - Arc Yukine
* Manga - 漫画 : Noragami - ノラガミ - Arc Bishamonten
* Manga - 漫画 : Noragami - ノラガミ - Arc Ebisu
* Manga - 漫画 : Noragami - ノラガミ - Arc Marionnettiste
---
TEN COUNT : LE DOSSIER
* Ten Count - テンカウント Le MasterPost
* TAKARAI RIHITO – 宝井理人 Le Masterpost
* Manga - 漫画 : Ten Count - テンカウント
* Drama CD - ドラマCD : Ten Count - テンカウント - Cast Interview
Mini Drama CD
2. Kurose kun, Shirotani san et la Rhinite
3. Kurose kun, Shirotani san et la paire de gants
4. Kurose kun, Shirotani san et les points faibles
5. Kurose kun, Shirotani san et la grimace
6. Commentaires du Cast
---
BIJUTSU TECHO : DECEMBER 2014
* Bijutsu Techo December 2014 'Boy's Love –Untangle the Expression of 'Relationships'-
---
INARI, KON KON, KOI IROHA.
---
KILL LA KILL : LE MASTERPOST

---
TOKYO GHOUL
---
ぷちぷち – OTOME
---
L'endroit où je me fournis en manga, magazines et goodies :

---
---
Depuis le 29 Jun 2014
Autres publications
abonnements
Pas d'abonnements.